Water absorption sponge of special rubber elastic body


Unhardened heat-resistant water absorption sponge

2 different kinds of sponges of special polyurethane resin and olefin series Taking pride in excellent absorption, high quality and high accuracy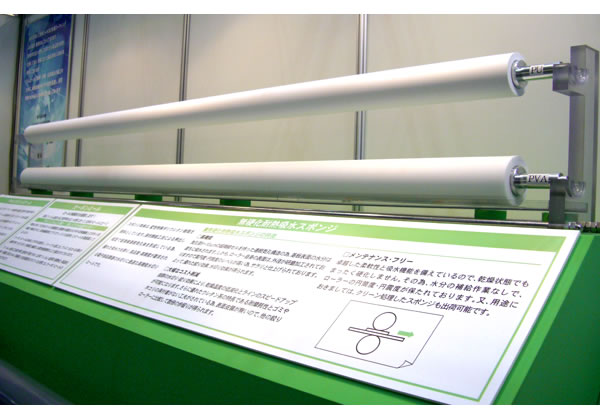 Most appropriate high performance draining roll for electronic parts related such as printed circuit boards, lead frame and so on, that require high quality and high accuracy by excellent absorption, because micro-fine continuous pores are formed by extrusion using liquid-phase sintering method.
Feature
High functionality
Continuous pore structure with ultrafine cell in the pore size of 10~30μm, making fluid on the board surface absorb instantly. The level of roundness and cylindricity is high for the roll surface with the external diameter polishing process, and brings a beneficial effect on excellent squeezing and draining.
Significant cost reduction
Excellent draining and squeezing effect makes decreasing dehydration temperature and speeding up the line. Being ingenious with abrasion resistance which is a distinguished feature of urethane series, and without reattachment of foreign particle or dust. Several times of yield rate can be obtained compared to other squeeze rolls because of no surface coating.
Maintenance-free
It does not harden under dry conditions because of remarkable flexibility and absorbing water function. Therefore, roundness and cylindricity of rolls are maintained without water supply. Shipping is available for sponges after the cleaning process depending on the application.
Example